Happy Hump Day. Well it's the day after the Presidential election. So this post will be on election day fashion.
Ann Romney was seen casting her vote in Mass wearing a blue wool coat and black slacks with brown knee boots. This look is very conservation, but super cute. Liking the look Ann!!!!
The night of the election, she wore a red dress. She looked like a first lady with the dress and her hair pulled back into a bun.
And here is the 2nd Term First Lady Michelle Obama wearing Michael Kors. She is looking very elegant and chic. Michelle Obama is a fashion trend setter!! She wears pieces from j. Crew as well as Michael Kors and Jason Wu. She definitely was wearing her first lady fashion crown election night!!!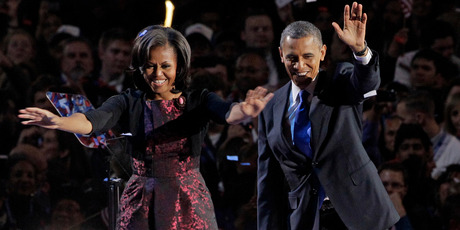 So do you heart this pic by Mrs. Obama? Do you think she is a trend setter?